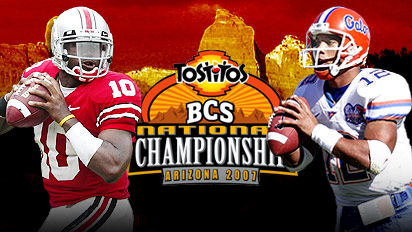 ...and don't even bother for the common courtesy of a reach around.
The Bucs were completely dominated for the second straight week, and things won't get much better for the rest of the season. The Browns and Falcons games look like the Bucs only shots at a victory. But let's forget all the Bucs woes and turn our focus to something more positive....
THE GATORS ARE GOING TO THE NATIONAL CHAMPIONSHIP!!!!!!

I am clearly biased here but even though Michigan is a better team I think Florida derserved a shot at Ohio State (actually, I still think USC should have played Ohio State in the championship but that's a completely different argument). The Wolverines already had their shot at the Buckeyes, and failed to capitalize on their opportunity.

And if Michigan did play Ohio State in the National Championship where would that get us? If Ohio State won then we would be right back where we started, and if Michigan won then the two teams would split the series and Michigan's win would have an asterisk next to it (although that last part is a bit rich coming from a Florida fan).

The Wolverines may be a more complete team but having the Gators play Ohio State is the closest thing to a playoff system we would have.