Sticks preview here
, and
Fanhouse preview here
. Live draft will begin shortly after kickoff.
Live Bloggin:
1st Quarter
-And I tune into the game just as McNabb throws an intercepion to Juran Bolden, which is incredibly surprising. Not that I don't expect McNabb to throw an interception, I just don't expect Bolden to make the pick. With Kelly out Bolden is the weak link in the secondary.
-Ouch. The Bucs have negative -2 passing yards in the first quarter. This might be the first rough outing for the rookie out of Toledo.
2nd Quarter
-The
Eagles Fanhouse blogger has a live blog
going on here if you are so interested.
- TOUCHDOWN RONDE BARBER!!!!
-I think Ronde was gettin' jealous of all the attention his twin brother was gettin' this week and decided to do something about it. Also I will be moving the live blog into the comments to section to try and conserve space.
Final Score:
Bucs 23, Eagles 21
Gruden continues to make the Eagles his bitch, and McNabb has another choke job to add to his resume. You can find my
Fanhouse quick recap here
.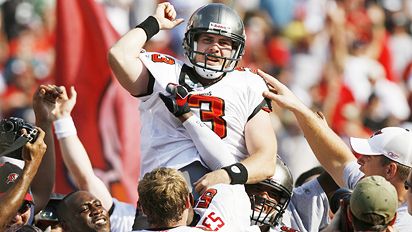 Random side note:
The NFL needs to do a better job of calling the roughing the passer penalty more consistently in situations where the defender falls into the legs of the quarterback. Two identical plays in this afternoon's games where called two different ways.
The first was a penalty against a Skins defender who fell into Peyton Manning's legs after he released the ball. The second was a non-call against a Vikings defender who fell into Matt Hasselbeck's legs a la Carson Palmer.