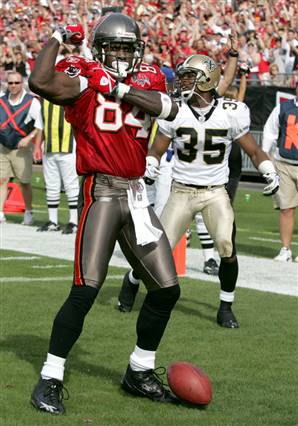 With the exception of a few of their receivers drafting a Buc the last few seasons has been a really bad idea. Chances are if you had Cadillac Williams last season he was nothing more than an anchor dragging your team down. But things appear to be different this season, Jeff Garcia has come to save the day and the offensive line should be the best of the Gruden era. Let's take a look at the Bucs players worth considering for your fantasy team (last season's stats are listed)....
Cadillac Williams
-

798 rushing yards, 1 TD
ESPN.com has Williams going off the board on average somewhere in the middle of the fourth round (44th overall) which seems a bit late based on some of the drafts I've seen. After a stellar rookie season it appears a good number of people are backing off Cadillac following his sophomore slump. And with good reason, Cadillac has struggled with injuries (although which backs haven't?) and he is unlikely to supplant Michael Pittman as the team's third down back.
That being written, Cadillac has a good deal of value especially if you can get him in the late third or fourth round. I subscribe to the theory that says nothing is more valuable to a fantasy team than a good running back, and I believe we will see more of the rookie Cadillac than the sophomore Cadillac this season. While having a competent quarterback will certainly help, the upgraded line should do the most good for Cadillac (although the
apparent loss of Arron Sears
is a setback). Additionally, not having touchdown vulture Mike Alstott around should bump up Cadillac's touchdown numbers.
Joey Galloway
-
1057 receiving yards, 7 TDs
Old Man Galloway has been the Bucs most successful fantasy contributor and should continue to be worth starting this season. The biggest knock on Galloway had been his age and people have backed off him despite back-to-back 1,000 yard seasons (71st overall pick). What most people don't know is that Galloway has a
super duper secret off season workout program
which has kept him in near mint condition.
More importantly, the arrival of Jeff Garcia should be a huge boost for Galloway's numbers. Garcia's ability to buy time in the pocket should pair perfectly with the speed of a veteran receiver like Galloway. I lost count of the number of times Galloway was wide open last season only to be underthrown by Bruce Gradkowski. Galloway remains the number one receiver by a wide margin and Gruden's obsession with throwing the ball should guarantee Galloway touches the ball plenty no matter how many games the Bucs win (or lose).
Jeff Garcia
-
1309 passing yards, 10 TDs, 2 INTs
It's kinda pathetic that Garcia is the best quarterback the Bucs have had since Steve Young left town. But on the bright side that means we can look forward to the best fantasy season from a Bucs quarterback in the history of fantasy football. Garcia is a perfect fit for Gruden's offense, a mobile experienced quarterback who is an accurate passer.
One of Gruden's greatest strengths as a coach is his ability to turn middling quarterbacks into very good quarterbacks (Exhibit A: Rich Gannon). One of the better offensive play callers in the NFL Gruden has invested a number of picks on the offense, most of them on the line. All these factors combined should create a perfect storm of sorts for Garcia, who is drafted on average at 154 over all, which makes him the 26th quarterback off the board. Draft Garcia higher than that and expect good results.
Alex Smith
-
367 receiving yards, 2 TDs
Oddly enough, after the Bucs Top Three the next Tampa Bay player off the board is Jerremy Stevens at the average position of 185 overall. Which is insane since there has been little doubt the entire training camp that Alex Smith will be the Bucs starting tightend. I've been high on Smith since his first game when he caught two touchdowns but since then Smith has been handicapped by the offensive line's inability to pass block. Gruden has been forced to keep Smith on the line to help block as opposed to running routes. Which is a shame since Smith is the prototypical receiving tightend a la Antonio Gates and Tony Gonzalez. Unfortuantely I still don't see a huge improvement in Smith's stats until the line can prove it can pass block on a consistent basis but keep an eye on Smith for the future.
So yeah, stay away from Stevens.
Buccaneer Defense
-
41 TDs allowed, 25 sacks, 3 INTs
Even when they where one of the top ranked defenses the Bucs did not have one of the better fantasy defenses. For the first time in eight years the Bucs dropped out of the top ten ranked defenses at the end of the season. While the Bucs have added a good deal of talent to the defense I would not recommend going anywhere near the defense come draft time.
Michael Pittman
-
245 rushing yards, 1 TD
One of the more versatile backs in the league Pittman has pulled triple duties as the kick returner, third down back and part time fullback. But even with Alstott gone Pittman does not have much fantasy value unless Cadillac is unable to play.
Michael Clayton, Maurice Stovall, David Boston, Ike Hilliard
While the Bucs have a good deal of depth at the receiver position out of the above named group there are a lot of "buts". For the past two seasons Clayton has been tabbed as the second receiver but has failed to live up to expectations. Stovall looked good in his rookie season but it remains to be seen if he is anything more than a third receiver. Boston has excelled in the exhibition season but has yet to prove he carry that success into the regular season. And Hilliard is just really old.