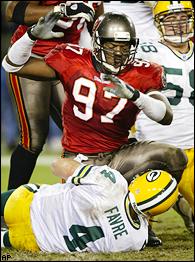 Shit just got interesting in Tampa Bay
. The player whom Gruden once jokingly put in charge of the team when the players left for the Super Bowl and the coaches stayed behind in Tampa to plan has been cut from the Bucs for what are reportedly health reasons.
"We anticipated and he anticipated being healthy coming to camp,'' Allen said. ""We held him out of our off-season programs. I don't think it was any burden to him. He needs some more time to recover. Simeon agreed. He's going to get aggressive with it. He was very confident he has a lot of football left.''
Considering Rice initially played through his injuries last year I am surprised Gruden and company weren't willing to give Rice the chance to get healthy during training camp. If they had just sat Rice during training camp it would have both given Rice a chance to heal and given Gaines Adams more reps at the position. I had considered it odd that for the last month or so the Bucs had been insistent on making Adams compete with Rice for the same position, but now you have to wonder if this was a preplanned move on the Bucs part. After all the Bucs knew Rice was recovering from injury and would still be suffering some of the ill effects of it.
The Bucs have previously had problems with Rice, who has always been a bit of a primadona. In 2005 Rice was suspended before a game against the 49ers (which the Bucs lost) for missing a team meeting. Additionally, in both the offseasons of 'o5 and '06 Rice refused to renegotiate his contract even when other players (i.e. Derrick Brooks) did renegotiate.
On the other hand, Rice had become the leader of the defensive line since Warren Sapp left. From '02 to '05 Rice had ranked in the top five each season in total sacks. For a Bucs defense which depended on the front four to generate the pash rush, Rice was the lynchpin of the defense.
Obviously, Adams becomes the starting right defensive end, which is why it's a very good thing Bruce Allen got Adams in camp and signed in time. Tip of the hat to Allen who has done a remarkable job of negotiating contracts with players. It helps that the Bucs have drafted high character guys but kudos to Allen for getting all of his rookies, including two top five picks, in camp in time. The youth movement on the defense really begins this season, with at least Adams and Ruud starting.
As for Rice, I hope we see him in a Bucs uniform again. He may have been a selfish, egoitiscal primadona, but he was OUR selfish, egoitiscal primadona. Rice seemed to really enjoy playing in Tampa, and Bruce Allen hinted Rice would play somewhere again.