You now what my favorite part about summer is? Watermelon. Of all the melons watermelon has to be favorite (although melondew is a close second). Nothing beats a slice of watermelon on a warm summer day, especially if you've been grilling all day. And who ever invented seedless watermelon is a fucking genius, although one has to wonder how seedless watermelons are propagated if they lack seeds. What does any of this have to do with the draft? Nothing. I just like watermelon and wanted to make sure you were aware of that.
Few tasks are more futile than assigning grades to drafts what just happened, yet come Monday Mel Kiper Jr and the usual suspects will do just that. And we will read them. Which will lead to even more draft grades next year. Its like an endless circle jerk without a money shot.
So when I sat down to eat my watermelon tonight I asked myself if there was someway I could get in on this grading goodness and also test my theory that Gruden is one of the worst drafters in the league. As much as I love Gruden, he's also the same guy who took Sebastien Janikowski in the first round.
Warning:
My theory here is that Gruden is a bad drafter so it is very likely my grades will reflect that fact, which would make this entire execise about as productive as the aforementioned draft day grades.
Few rules before we get started, I'm only looking at first day picks (rounds 1-3) since Gruden joined the team in 2002 to 2005. I'm ignoring 2006 since the players have only been around for one season, and if we only judged players on their rookie seasons Michael Clayton would be a Pro Bowler.
2002: Marquise Walker, wr, 3rd RD (#86)
We're off to a good start here en route to confirming my theory. Walker has never caught a ball in the NFL and only stayed with the team one year. Walker's current location is most likely working the deep fryer at your local burger butt. Although in Gruden's defense he had very little time to research draft picks in the offseason. You don't expect much of a third round pick but you at least expect him to contribute
.
Grade: F

2003: Dewayne White, de, 2nd RD (#64)
A little better for Gruden and company although White never worked his way into the starting lineup for four years despite showing flashes of brilliance. This offseason White signed with Detroit.
Grade: C
2003: Chris Simms, qb, 3rd RD (#97)
A good test case for our little experiment, Simm has exceeded expectations but also is at risk of losing his starting job. Gruden's speciality has always been quarterbacks so it is likely Simms has done better in Gruden's offense than he would elsewhere. I'm going to give Simms a good grade but I reserve the right to change this grade if Simms bombs this season, which he probably will.
Grade: B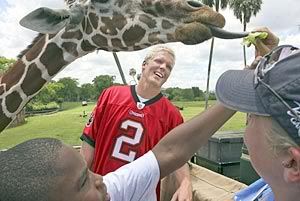 2004: Michael Clayton, wr, 1st RD (#15)
It's funny how time changes your perspective on players. Just a year ago everyone made fun of Peyton Manning and loved Shawm Merriman. If I was grading Clayton after his rookie season he would receive an "A" but if we're just looking at years 2 and 3 he would get a "D".
Grade: C
2004: Marquise Cooper, olb, 3rd RD (#79)
One thing I should point out here is that Gruden didn't have a lot of draft picks to work with his first three years in Tampa. The more ardent Buccaneer fans know this but for those who are unfamiliar the Bucs had to give up 2 first round draft picks and 2 second round draft picks in exchange for Gruden. Why did I mention all this? Because I honestly can't remember a single thing about Cooper.
Grade: F
2005: Cadillac Williams, rb, 1st RD (#5)
Some people might argue I should drop Caddy's grade due to his decreased production last season but I blame that more on the team constantly playing from behind more than anything. Caddy doesn't look like he has LT potential but he can be scary when he gets in the open field and is one of the more difficult backs to tackle in the league.
Grade: A
2005: Barrett Ruud, mlb, 2nd RD (#36)
Ruud looks like he'll be a really good player in the league but he has failed to move past Shelton Quarles in two years. Although in Ruud's defense Quarles has played really well the past two seasons. Like the Simms grade I reserve the right to change this if Ruud stinks up the joint this season.
Grade: B
2005: Alex Smith, te, 3rd RD (#71)
Smith has become one of my favorites players on the team, and is the best tightend people have never heard of. He was originally drafted to be a receiving tightend in the Tony Gonzalez/Antonio Gates but offensive line deficiencies have forced Smith to become a blocking tightend. If the Bucs can ever solve their blocking woes Smith could become one of the most feared tightends in the league.
Grade: A


2005: Chris Colmer, ot, 3rd RD (#91)
Colmer had a lot of potential coming out of NC State but back problems have prevented Colmer from ever playing a down in a Bucs uniform. Colmer suffers from Parsonage-Turner Syndrome which caused him to miss his entire 2003 season at NC State. I'm no doctor so Colmer may come back and play for the Bucs this season but I wouldn't bet on it.
Grade: D


Some other players worth mentioning in the later rounds who became starters are Dan Buenning, Will Allen and Jermaine Phillips, all of whom were drafted in the fourth round.
Overall, this more or less confirms what I thought of Gruden. His only really impressive picks came two years ago, i.e. Alex Smith and Dan Buenning. I'm not counting the Cadillac pick since anytime you pick in the top five you are guaranteed to be getting an impact player. Gruden has also drafted a surprising number of busts, although most of those came early in his tenure with Tampa. So I would rate Gruden at about average to below average when it comes to drafting.