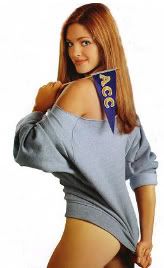 At this point I just want to be done with the damn thing, the hype and incessant rumors has reached unparalleled levels this year and it is only a matter of time before the hype eclipses the event itself....if it hasn't happened already.
Because I'm a good sport I will give you my pick for the Bucs first rounder, a pick which, given my history, is almost certain to be wrong.
Joe Thomas
will be the Bucs first round pick and will usher in a new era of peace and prosperity in Tampa while small children sprinkle flowers down Dale Mabry to celebrate Thomas' arrival.
You can find my draft preview, of sorts, at the
Sticks here
(althought the link won't work until this afternoon. In fact the link probably won't work at all so just click on
the Sticks
. But wait until this afternoon when it is published.).
And don't forget to enter
the BucStats draft day contest
, now with real prizes.
UPDATE:
I just remembered that I made a bet with Scott a month ago where I picked CJ to be the Bucs first round draft pick and it would be so John Kerry of me to flip-flop on my pick. So nix the Joe Thomas pick. Kinda. Well, not really. Whatever, I'll be back late Sunday to mock Gruden's picks.