Because everything's easier to understand when all you have to figure out is bright shiny images.....
The Buccaneer quarterback saga begins March 13, 1972 with the birth of Trent Dilfer (for convience's sake we will fast forward 22 years and several dozen other Buc quarterbacks).
Dilfer (the one with his shirt off) had a few good years in Tampa, got chased off by that fat fuck Bubba the Love Sponge, then got to tell
Tampa to suck his dick
before beginning his Kung Fu-like destiny to roam the league going from one city to the next every year.
Dilfer was replaced by a series of forgetable quarterbacks beginning with Eric Zeier. This is the only existing picture of Zeier.
Everyone loved Shaun King until people realized his arm was weaker than FDR's legs. He now has a promising career in the
Arena League
.
Then came Brad Johnson, who despite not being able to throw the ball further than 15 yards down field, won a Super Bowl. The BJ is 68 and currently looking for a team interested in his services.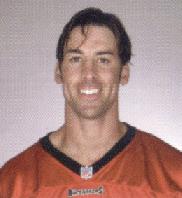 For roughly two years the quarterback position was manned by either Rob Johnson or King whenever the Bucs had a late game as the same time as the Ponderosa early bird special (the BJ has to eat).
Rob Johnson's current whereabouts are unknown. Despite what
his website
might lead you to believe King is still in the arena league.
For a brief time we were teased with the suckitude of Chris Simms before....
...we had to live through a year of Brian Griese....
...only to go back to the Liberace-loving,
spinach-dip making quarterback
. These years are largely forgetable.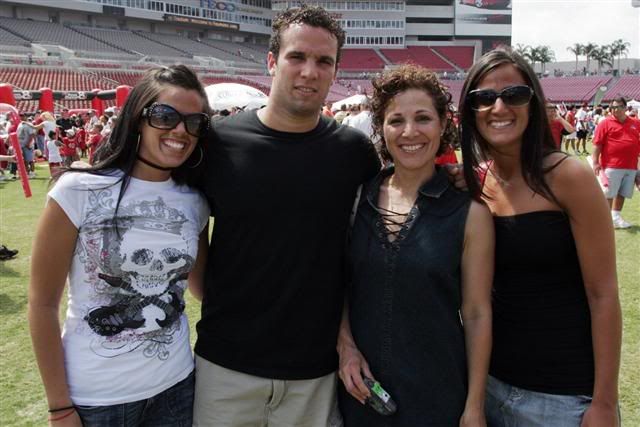 In stepped Bruce Gradkowski (let's be honest you have no idea what Grads looks like) and Tim Rattay when the Panthers defense decided they like Simms better without a spleen.
And now we have Simms and Jeff Garcia on the same team (and maybe Plummer if he wants to make it a
holy trinity
?). I'm sure this will work out well....