Consider me a fan of the
Jeremiah Trotter signing
, especially since the Bucs linebackers could use some veteran leadership to replace Shelton Quarles. Trotter was a leader on the Eagles, even Donovan McNabb
questioned his release
. Although to be fair Trotter was cut because he had become a liability in pass coverage, which is why he will remain at most number two on the depth chart, behind Barrett Ruud. What Trotter gives the Bucs, in addition to even more veteran leadership, is linebacker who can play the middle backer in the 3-4 and help stuff the running game. This is the deepest linebacker corp the Bucs have had......well, ever.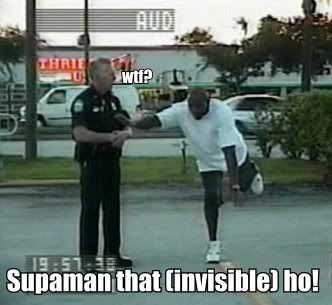 On a completely seperate note, what the hell happened to the David Boston drug test? I assume everyone remembers the
Boston/DUI stop/Superman video
from about two weeks ago? The test results were supposed to be released a week ago but I have not heard a peep about the results. I thought maybe it was just me but the
Pewter Report message board
is asking the same question. If Boston is innocent then the Times and Tribune should give equal time to that story that they did to the DUI stop.

(ToH to Johnnie for the pic)